Contact us using our numbers below
Fire Shutters & Fire Curtains
As we all know; a fire is not to be taken lightly under any circumstances. If it occurs indoors and is unplanned, the consequences can be severe for the building itself and those inside. This is why you are going to want to take all the necessary precautions to ensure that it doesn't spread throughout the building in question. The top of the range fire rated shutters from Roller Shutter Services will be able to help you achieve this with ease, giving you the peace of mind you deserve.
Premium Quality Fire Rated Roller Shutters
For more than 15 years, the team at Roller Shutter Services have been providing the very best fire rated roller shutter solutions to clients in need. They are highly recommended in any large scale indoor setting, whether this is in an educational, commercial, industrial space or anywhere else that encounters high traffic. These vital pieces of machinery help to keep any fire trapped in a singular room when activated, allowing those present in the building to evacuate as soon as possible without having to worry about a raging fire hunting them down.
If you're considering purchasing a fire roller shutter for your property, we're sure you won't regret your choice. After all, they provide a reliable way of keeping people safe in a fire, making them feel at ease and allowing your building to be used in its intended way, knowing that safety measures are in place at all times.
We will Beat Any Written or Online Comparable Quotation
Our Recent Fire Shutters & Fire Curtains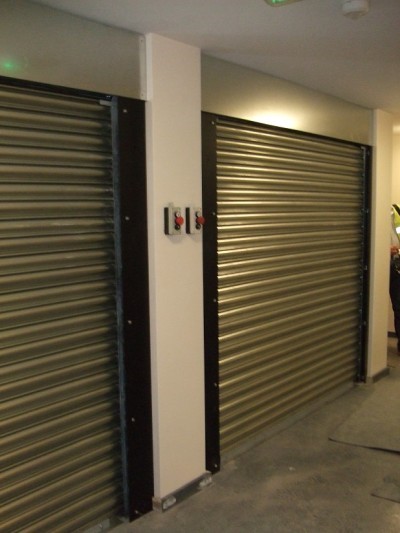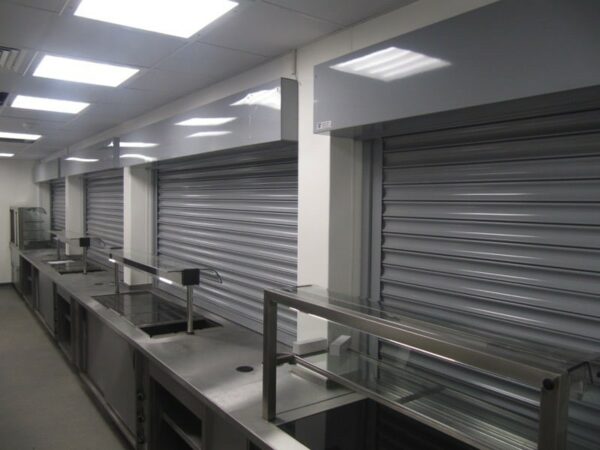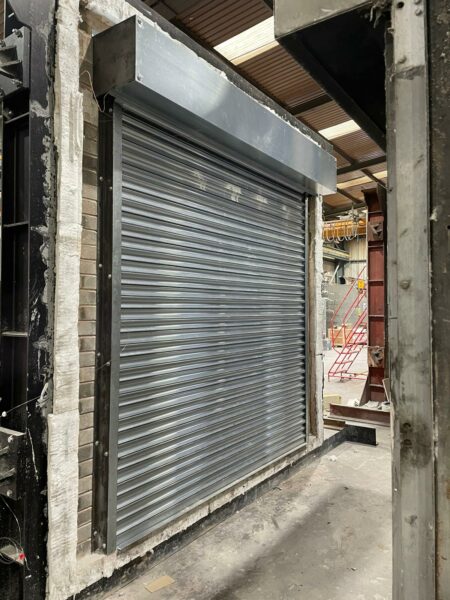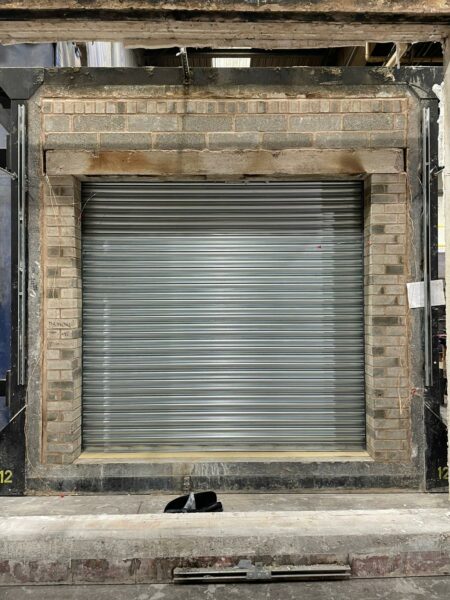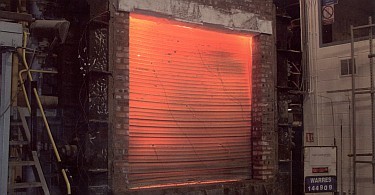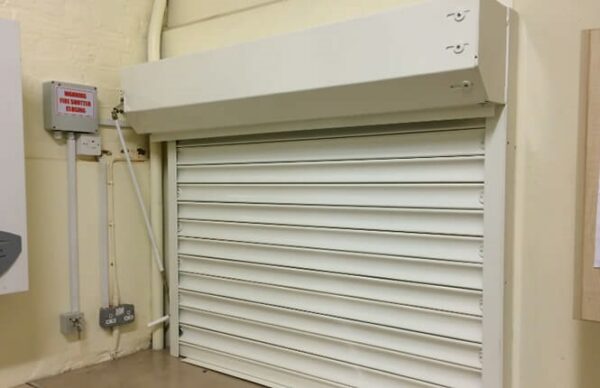 75MM 1 Hour Fire Rated Door
Here at Roller Shutter Services, we offer one of the best in the field of fire resistant roller shutters, and we are proud to do so! The RSFS1 roller shutter door available on our website is electrically operated, allowing the operator to automatically shut the door in an event of a fire. It is made from 75mm slats of a durable galvanised steel curtain, making sure the fire will be contained in the required area, as well as providing a galvanised steel box assembly and guide rails Powder Coated to any Standard RAL Colour
This electrically operated fire curtain system is designed to be used as a security banner when used normally, giving it a constant function. But, in the event of a fire or emergency situation, it will be closed automatically. When a fire alarm signal reaches the fire shutter door, it will activate and descend to create a barrier between the fire and the next area.
This product is designed to be durable and long lasting, and has been tested and approved to BS476: Part 22: 1987 and BS EN 1634-1:2008 as well as being fitted with a fire interface panel to connect to the fire alarm system. It is also fitted with a battery backup, so operation can still commence in the event of a mains power failure.
Get In Touch Today
Would you like fire resistant shutters for your own facility? Or do you have any questions you'd like to ask before you buy? Our team of experts are always on hand to help. Call us today on 0800 328 9356 or email us at info@rollershutterservices.co.uk and we will get back to you as soon as we can. Alternatively, use our contact form for a swift response from one of our staff.
School Kitchens

We install, maintain, service and repair Fire Shutters in School Kitchens.

Restaurants

We install, maintain, service and repair Fire Shutters in Restaurants.

Canteens

We install, maintain, service and repair Fire Shutters in Cafes, and School or Work Canteens.

Universities

We install, maintain, service and repair Fire Shutters in Universities.

Storerooms

We install, maintain, service and repair Fire Shutters in Storerooms.

Supermarkets

We install, maintain, service and repair Fire Shutters in Supermarkets and Shops.

Laboratories

We install, maintain, service and repair Fire Shutters in Laboratories.

Prisons

We install, maintain, service and repair Fire Shutters in Prisons.

Industrial

We install, maintain, service and repair Industrial Fire Shutters and Roller Shutters.

Commercial

We install, maintain, service and repair Commercial Fire Shutters and Roller Shutters.

Residential

We install, maintain, service and repair Residential Fire Shutters and Roller Shutters.

Retail Units

We install, maintain, service and repair Fire Shutters and Roller Shutters on Retail Units.
Fire Shutters FAQs
When are fire shutters required?

Fires in any home or business can be catastrophic, especially if the flames and smoke are able to spread throughout the building easily. One way to prevent fire from spreading between sections of a building, or between buildings that are close to each other, is to install fire shutters in key places.

Measures like this can create a fire-resistant barrier that keeps it at bay for as long as possible. Every minute is precious during an evacuation and while waiting for firefighters to arrive, so a fire shutter could be invaluable in saving lives and preserving at least part of the building and its contents.

Without fire shutters to cut off the spread of fire, you could be facing massive financial losses, even with insurance. That should be reason enough to install them wherever your building might need them – but is it a legal requirement to have fire shutters? And where are they supposed to be used?
Why are fire shutters needed?

Fire shutters are fire-resistant roller doors. Just like the roller shutters you'll see on the outside of shops or garages, they're made from metal and roll up above an opening when not in use. The difference is that fire shutters only drop closed if there's a fire, to try to stop it from spreading.

Depending on the type of shutter and operating system you choose, and how it connects to your existing fire detection system, you can programme fire shutters to close automatically with specific triggers. For example, if the fire alarm goes off, the shutter can drop closed immediately.

Or, to allow people to use it as an escape route for as long as possible, the door can be programmed to stay half-open until a sensor detects heat nearby, at which point it will drop fully closed and seal the gap before the fire reaches it. This barrier can help to save lives and business assets.

These toughened roller shutters act as a fire break between compartments of a building to limit the damage to a smaller area. They work as part of a well-designed fire safety strategy, combined with measures like smoke detectors, alarms, fire extinguishers, and building evacuation plans.

Fire shutters can be designed to withstand heat and smoke for up to several hours, or a minimum of 30 minutes according to British and European standards. In many cases, this will be enough time for emergency services to arrive at the scene and get the fire under control.
Where can fire shutters be used?

If you regularly handle or store flammable materials, there'll be a higher risk of fire. This is where fire prevention measures are essential, especially in large buildings or clusters of buildings where flames can easily jump from one section to another and continue spreading.

Here are some examples of places throughout the industrial, commercial, and public sectors that use fire shutters as part of their safeguarding and security measures:

Warehouses and factories

Power plants and chemical plants

Shopping centres and retail stores

Schools, colleges, and university buildings

Canteens, cafeterias, and restaurants

Hospitals and scientific laboratories

Any access point between two parts of a building, including between the inside and outdoors, can be fitted with a fire shutter. They're usually found above internal and external doorways and windows, and particularly at the entrance/exit points of kitchens, storerooms, and loading bays.

If the shutter is fitted over a doorway or other 'means of escape', it must be the type with an anti-drop brake that stays open until triggered by a sensor detecting an excessive temperature level. This is to prevent injuries from the shutter closing while people are trying to get out.

Of course, a fire shutter is only as strong a fire barrier as the surroundings it's fitted to. Fire shutters can only be fitted to masonry or structural steel that has the same minimum level of fire resistance as the shutters, preventing the fire from spreading around it if the fittings are weak.
When are fire shutters required by law?

In all non-domestic and commercial properties, including blocks of flats and multi-apartment houses, fire doors are a legal requirement. When it comes to fire shutters, which cover larger openings than standard door sizes, these aren't always mandatory – it depends on the property, how it's used, and the layout of the space.

You'll need to carry out a full risk assessment of your premises to identify fire risks and take steps to counter them, with regular Building Control safety inspections to make sure you're maintaining legal compliance. Your local Building Control Officer might find your use of fire doors and other measures to be adequate without shutters.

When it comes to Building Regulations for fire shutters, you'll find 'rolling shutters in compartment walls' under Approved Document B (Volume 2: Buildings other than dwellings). These shutters are classed as fire doorsets, and must be tested and certified to the standards set by:

BS EN 1634 (-1 -2 -3) – 'Fire resistance and smoke control tests for door and shutter assemblies'

BS 476 (-31.1) – 'Fire tests on building materials and structures'

BS EN 13501 (-2) – 'Fire classification of construction products and building elements'

This includes maintaining heat integrity for at least 30 minutes, with an equal smoke resistance period for most cases. In areas such as enclosed corridors and stairwells that aren't part of a protected escape route, the fire rating can be as low as 20 minutes.

Further guidance on standards for metal doors can be found in the Code of Practice for Fire Resisting Metal Doorsets from the Door and Shutter Manufacturers' Association (DSMA).
Where to get fire shutters?

It's easy enough to do a quick search for fire shutters and click on the first links that come up, but that doesn't mean they're trusted providers with the necessary experience to supply a high-quality product that complies with the relevant laws.

It's best to look for a reliable supplier of all kinds of roller shutters, who's been in the industry for long enough to know exactly what they're doing and build a reputation for excellent service. For example, if your building is in the Bolton area, you could go to Roller Shutter Services for roller shutters in Bolton – including fire shutters and fire curtains.

The best part about ordering your fire shutters from an established supplier is that it's also possible to set up ongoing fire shutter maintenance services, helping you to stay on top of the legal requirements for fire shutter testing and upkeep.
Why Not Speak To An Expert
Speak to an expert today for all the information you require. Contact Us using the form below.